Report on competition law's digital future: time for (r)evolution?
Do we need a revolution in competition rules to keep up with digital developments such as online platforms, data-sharing and 'killer acquisitions', or will a more natural evolution suffice?
The European Commission's recently-published expert panel report places the answer somewhere in the middle, but also puts forward a number of revolutionary suggestions. The report suggests that it would be preferable for competition policy in the digital space to err on the side of over-enforcement. In order to facilitate this, tweaks to competition rules, such as the burden of proof, may be necessary. The European Commission is likely to take the report's suggestions to heart when considering its next steps in the ever-growing digital world. Companies can use our overview to get up to speed with the highlights of the report in anticipation of the Commission's next steps.
The overview below will bring companies up to speed on the highlights of the report. It remains to be seen whether and how the Commission will move forward with the report's suggestions. As Competition Commissioner Vestager puts it: "we'll need to take some time to think about those ideas and to discuss and debate before conclusions are reached". Next steps may thus be on the horizon - but probably not in the immediate future.
Image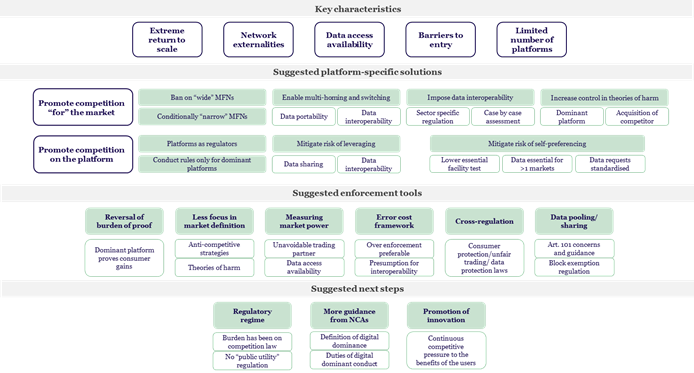 This article was published in the Competition Law Newsletter of May 2019. Other articles in this newsletter: