E-book: 'Practical implications of ESG disclosure regulations'
As of 10 March 2021, many financial market participants and financial advisers will be subject to new disclosure obligations following the entry into force of the EU Sustainable Finance Disclosure Regulation (SFDR) on 29 December 2019. The SFDR sets rules on transparency with a view to promoting both the integration of sustainability risks into investment processes and disclosures to investors.
On 23 April 2020, the European Supervisory Authorities EBA, EIOPA and ESMA (collectively the ESAs) published a joint consultation paper seeking feedback on the proposed regulatory technical standards (RTS) which specify how to address the obligations created by the SFDR. The disclosure requirements will have a significant impact on current disclosure practices. In view of the challenging timelines, financial institutions need to prepare now. 
This e-book discusses the practical implications and challenges facing financial market participants and financial advisers during the implementation of the SFDR and the RTS. 
Download this e-book by clicking on the visual below.  
Image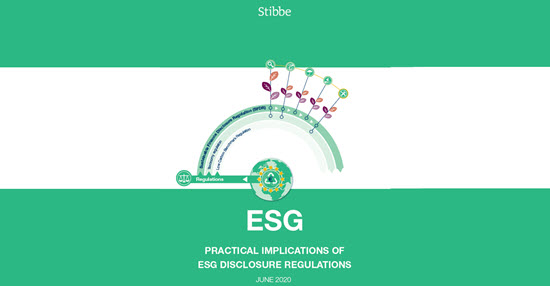 More about Environmental, Social & Governance (ESG)
ESG challenges are broad and require attention from all divisions within an organisation. We keep track of ESG developments relevant for corporate and financial markets on a special dedicated page on this subject.
This dedicated page contains important news and publications, and provides an overview of our multidisciplinary ESG Corporate and Financial Markets team. These team members all have the necessary expertise to advise clients on the multitude of legal issues related to corporate and financial markets in the field of sustainability and ESG regulation, now and in the future, at both at national and EU level. By placing ESG in a broad and pragmatic perspective, we are able to offer practical legal solutions.
Please go to: www.stibbe-esg.com.